Glitter Effects
Project by Julie McGuffee


For more information visit:

Materials Needed

Sakura® Gelly Roll® Stardust Pens

Sakura® Gelly Roll® Stardust Clear Pen
Sakura® Quickie Glue™ Pen
8" x 4" Cardstock for Card
3 ½" x 3 ½" piece of cardstock
3" x 2" piece of patterned paper
Flower punch
3 Silver Brads
Letter size sheet of cardstock for title
Note: When choosing pen colors and papers for your project, look for colors and styles that complement the photograph and/or theme.
Creating titles with bling is quick and easy using glitter pens and/or glue and foil. Create titles in a word processing software, or freehand. When using a computer and printer, select a color in the same hue as the glitter pen. For example, if you are using a pink pen you will want to select pink ink.
Score then fold the rectangle in half to create a 4" x 4" card.
Print the title and flowers (using Dingbats font) then trace over printing with the glitter pen. Print a sample first on plain copy paper to check for size. Size will vary depending on the font being used.
Cut a rectangle around the title then punch out the flowers.
Add a brad to the center of each flower then adhere to title.
Referring to the photograph, assemble the layout as follows:
Adhere the square of cardstock and small piece of patterned paper to the front of the card.
Adhere the glitter title.
Variation:
Select a light colored ink then print a title onto cardstock. Trace over the title with the glue pen then let dry. The glue will remain tacky. Cover with gold leafing product to achieve a metallic effect then cut to desired size and shape.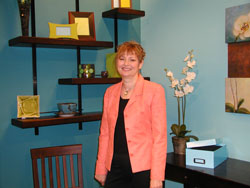 Julie McGuffee


Sponsor: Sakura Color Products of America