Metallic embellishments are the perfect addition to add dimension and shine to pages with any theme, but they are especially good accents for masculine pages. So many activities that men engage in include tools or equipment that have metal pieces.
I was surprised at just how many metallic scrapbooking embellishments there are to choose from, including papers, letters, brads, eyelets, tiles, label holders, words, photo corners, charms, tags, chains, trims, wire, stickers, plaques, shapes, and frames . . . Whew! That's a huge selection of materials to choose from!
I will warn you that working with metal accents is addictive. I already have three more pages planned—including another fish page for my son David's big Muskie and a motorcycle page for Nicholas. I'm also planning fun baking theme pages that will include photos of me and my sisters. I already have collected metal pots & pans stickers, letters, brads, and eyelets for the pages. Metal accents aren't just for men!
Finished Sizes: 12" x 12" Pages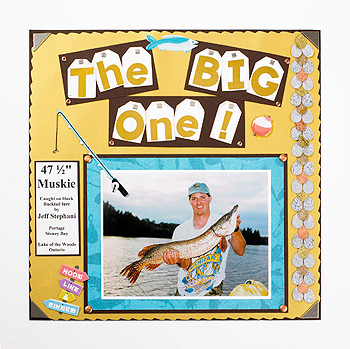 The Big One
I like to use my photos as guides when I choose the accent pieces to go on my pages. In this case, I wanted to pick up the colors and textures of the fish scales. Even with so many supplies available, I couldn't find the exact papers that I needed to make fish scales—so I simply sprayed cardstock with metallic and textured sprays and punched out teardrop shapes. The effect turned out to be just what I wanted. I picked up on the turquoise on Jeff's hat and shirt and used that color for the mat, fish, fishing pole, and sign. Repeating colors throughout the page really pulls things together. The metal brads and eyelets anchor the photo and letters. Metal corners add the finishing touch.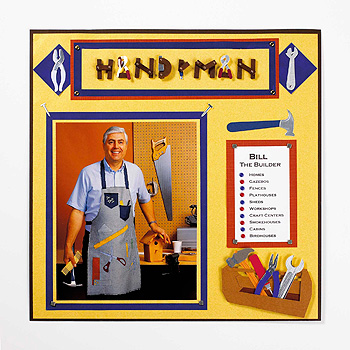 Handyman
It wasn't hard to find a lot of good metallic stickers with a tool theme including the great title that has tools right in the letters. I used metallic brads for the journaling corners and colored brads for the bulleted items of all of the things that my husband Bill has built. The corner nails on the photo are stickers that add to the handyman theme. In this case, I had to constrain myself from putting too many things on the page!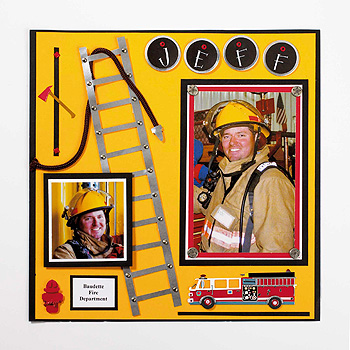 Jeff
When my son Jeffrey passed away recently, I wanted to do a fireman page for him as a tribute. I used metal rub-on letters for the metal tags and attached them with eyelets. I had many good stickers to choose from for the page, but decided that it also needed a large ladder to tie it together. It was made by cutting thin strips of silver paper and attaching the rungs to the ladder with silver brads. The hose is a piece of brown cord with a silver paper nozzle glued on one end. Star eyelets accent the corners of one of the photos.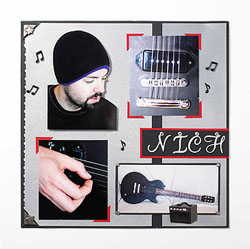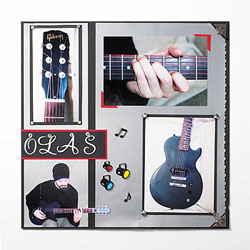 Nicholas
I guess you could call these my "heavy metal" pages, although my son Nicholas prefers alternative rock. I visualized this layout before I took the photos, and thought it would be fun to have close-ups of all of the different parts of the guitar and his hands playing it. The spotlight and amplifier stickers—and musical note brads—add to the musical theme. The letters of his name are attached with eyelets at the top of each one, and I used silver metal brads for corner accents on several of the photos. Star metal corners tie everything together.