Adobe Digital Scrapbooking Tip – PhotoShop Elements Theme Pages
By Linda Sattgast

For PhotoShop Elements Trial:
http://www.adobe.com/products/photoshopelwin/tryout.html?sdid=YVRF

Use the Themes in Photoshop Elements to create fast pages:

Create a new document by choosing File > New > Blank File.

When the dialog box comes up, enter your dimensions and resolution, choose RGB color, and click okay.
Click on the second icon at the top of the Artwork and Effects palette to get Themes.
Select a theme from the menu at the top.
Double click on a theme thumbnail, or simply click and drag it onto your page. Photoshop Elements will apply the theme to your page.
To resize a frame, select the Move tool and make sure "Show Bounding Box" is checked in the Options Bar. Click and drag from a handle to resize. Click on the check mark to accept the change.
To place a photo in a frame, click and drag a thumbnail from the Photo Bin into the frame. Use the slider to resize the photo. Use the circle handle to rotate the photo, if desired. Click on the check mark to accept the changes.
To change the theme, click and drag a new theme thumbnail onto your page.
To add a different background, click on the background layer in the Layers palette to select it. Then click and drag a new digital background paper from the Photo Bin onto your page, being careful not to drag it into a frame.
To change a frame, click on the first icon in the Artwork and Effects palette. Choose Frames from the menu on the left and choose the style of frame from the menu on the right. Drag and drop a frame thumbnail onto the frame you want to change.
To add additional frames, drag and drop frame thumbnails onto an open area on your page, or duplicate an existing frame by dragging its layer onto the "Create a new layer icon" at the top of the Layers palette.
Materials for "Bertha Walton" page by Linda Sattgast & Mary Newman:
Background: Theme from Adobe Photoshop Elements, Mesh overlay: May Arts, Narrow Ribbon: Offray, Cream Ribbon: MayArts, I.D. Plate: Creative Imaginations, I.D. Plate paper: Bazzill, Font: P22 Victorian Swash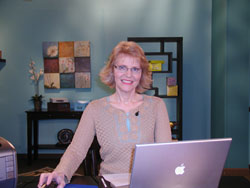 Linda Sattgast

Sponsor: Adobe Systems Inc. and Scrapper's Guide