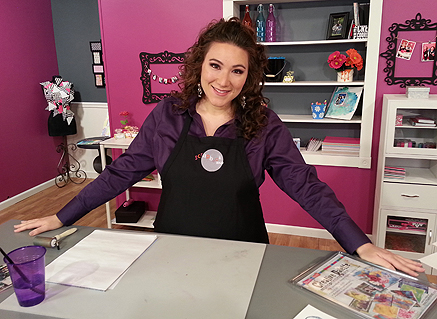 Host: Julie Fei-Fan Balzer
Julie Fei-Fan Balzer
Julie is a mixed media artist, painter, and avid memory keeper. She loves to create all kinds of artwork and experiment with lots of different supplies and techniques. Julie has been lucky enough to have artwork and articles published in multiple books and magazines (including her column in Cloth Paper Scissors Magazine). Along with Scrapbook Soup, she hosts Cloth Paper Scissors' web series The Mixed Media Workshop as well as the Adventures in Arting podcast. Julie designs stencils for The Crafter's Workshop and shares her love of everything handmade on her blog six-days-a-week. Her book Carve Stamp Play was recently published by Interweave. Julie lives in New York City in a small apartment with a big art studio.
Julie blogs her art adventures at www.balzerdesigns.typepad.com. Follow her Twitter feed at http://twitter.com/BalzerDesigns .
Julie McGuffee
Originally from England, Julie now lives in the United States where she turned her hobby into a professional career as an arts and crafts designer. With a background in decorative painting, Julie has designed projects and written instructions for over 30 books. She writes two columns on a monthly basis for a nationally distributed crafts magazine and has appeared on numerous TV shows. Julie is also a regular guest on the popular Public Television show, "Hands On Crafts for Kids". She has also appeared as a guest and co-host of "More Than Memories".
In 1996 Julie and fellow designer Jean Kievlan formed their own design services company. They work with leading manufacturers in the arts and crafts industry to help promote and develop quality product lines.
Visit Julie's website at: http://www.juliemcguffee.com/

Beth Madland started scrapbooking as a child when she made end-of-year albums during junior high and high school. In fact, Beth remembers trading Mrs. Grossman's "stickers by the yard" when she was in 6th grade. But Beth really got involved about five years ago when she walked into her first scrapbook store and discovered the wonderful world of acid free paper and stickers.
Beth spent eight years in television news as a reporter, videographer, producer and eventually hosted the number one morning news show in Lexington, Kentucky. On one of her shows, "Let's do Lunch," Beth started producing "Scrapbooking Tips of the Week" in conjunction with a local scrapbook store. Having more fun demonstrating crafts and scrapbooking on TV than covering the latest hard news story, Beth searched for work on a scrapbook TV show and left news behind.
When she's not cropping and pasting photos and stickers, Beth enjoys spending time with her new husband, Will and their two big dogs. Beth lives in North Dakota.