Scrapbook Soup is the site for scrapbookers, paper crafters, card makers and anyone interested in preserving memories through photos. It includes instructions, videos, projects, and pages from the scrapbooking experts.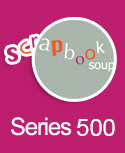 New! Scrapbook Soup Series 500 available on DVD!
Freshen up you scrapbooking and paper crafting with Scrapbook Soup hosted by Julie Fei-Fan Balzer. The show features a mix of exciting techniques presented by a team of scrapbook experts. Each episode offers a generous portion of mixed media with a dash of paint, pens, and new products for the scrapbooker. Series 500 explores new ways to create, capture and celebrate life's best moments with today's top artists and designers. You will be treated to a fresh approach to designs, materials and mediums to reflect today's hottest trends. Topics include: Pocket Scrapbooking, Titles, Family, DIY Embellishments, Celebrations, Travel and Stamping.
Scrapbook Soup Series 500 DVD Boxed Set $39.99 plus shipping and handling.
(US & Canada orders only – home use only)


Please allow 3 weeks for delivery.